Turn that frown upside down, Tardar Sauce! 
The popular meme sensation "Grumpy Cat" whom goes by Tardar Sauce has just won a huge copyright infringement l stems from an agreement with Grenade and Grumpy Cat Limited in which the agreement was to use Tardar Sauce's likeness on only the "Grumppuccino"  branded ice coffee, yet the likeness was shown to have been placed on T-shirts and other Roasted Coffee products by the Grenade brand.
Initially a settlement was in place for 600k for the mishap, but that was followed by a counter-suit by Grenade for 12 million, stating that Grumpy Cat Limited had not done enough to help with brand promotion.
Oddly enough,  Grenade's access to the likeness of Grumpy Cat fell short with selling iced coffee so to recoup, they decided to go as far as adding Tardar Sauce to other merchandise.
Tardar Sauce and her owner Tabatha Bundesen left the courtroom victorious after a week long deliberation. Tabatha was awarded $710,001; the one dollar amount awarded for breach of contract, the remainder of that due to infringement.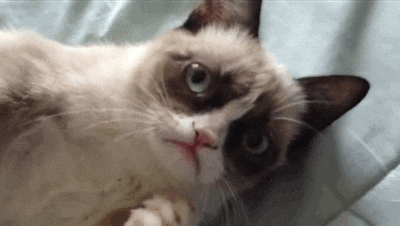 Now i'm currently in the process of turning my cat into an internet superstar so I can retire early. Unfortunately her only skill is destroying toilet paper.  Wish me luck!