So now that the initial sadness of nostalgia and broken childhood has washed over you,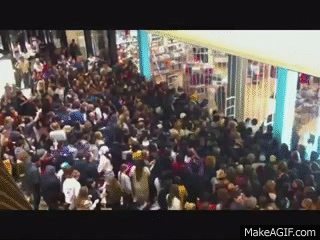 it's time to scramble and set a plan as Toys R Us a prime black Friday resource to get those early Xmas gifts will soon no longer be an option.
So if you are a parent, or just a big kid at heart – Derreck and BK are here to deliver the real-rap-raw on what you need to know while you still have time to take advantage of these liquidation savings:
Some additional FYI's we found out later that you should know:
A Go-Fund-Me Hail Mary Move…
A Go-Fund-Me was recently launched to try and save our childhood kingdom. According to the story on the fundraising page:
This GoFundMe campaign is spearheaded by Isaac Larian and various investor associates. Isaac Larian is the CEO of  MGA Entertainment, Inc. (MGAE), one of the world's leading privately held toy and entertainment companies and creator of family favorite brands including Little Tikes. Isaac and his associates are devoted to saving the retail chain and preserving the Toys"R"Us experience for future generations.

The deadline for reaching the $1 billion goal is Memorial Day, May 28, 2018. The funds collected through this campaign would be used in the formulation of a bid to acquire some Toys"R"Us assets through the bankruptcy process. This is not a charitable donation, and certain donor disclosures apply.
Our opinion – we doubt this will work and please read the fine print before you donate…just a warning lol.
What about Babies R Us? I shop there or like to register there for showers…
According to USA Today, when asked about the thriving newborn/toddler supply chain, David Brandon (Toys R Us CEO) went on record that Babies R Us is closing as well. However, Brandon disclosed internally to his staff at company HQ, "that [the company] will maintain the Babies R Us registry and the web stores for the time being in hopes someone might want to buy that asset." Publicly,  he went on to say:
"Because of that possibility we will continue to operate our web store in the U.S. for the next few weeks while that sorts itself out – because if in fact there is someone who wants to keep a foothold in the U.S. they will likely do that in such a way that they can retain customers, such as people involved in our baby registry  programs."
Is this the end of big box brick and mortar Toy Stores?
While Derreck and BK definitely were on point with Toys R Us outsourcing to competitor Amazon was a major factor in the sudden death of the brand, the truth is Walmart and other 360 retail (grocery, hardware, pharmacy, electronics, & lifestyle all-in-one stores) are the TRUE culprit. While Babies R Us definitely helped the retail giant grow their niche, at the end of the day their target is parents and parents like Walmart (no matter what they say about loving mom and pop shops). Ultimately, Walmart would have won. In the end, there will always be some place like Walmart or Target (although Target might be gone soon too) to do your toy shopping at.
For more on this subject, we'll keep you updated…but if you don't see an update…well…you already know.